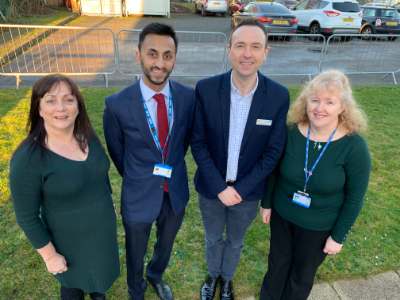 Heath Street Health Centre (formerly known as Summerfield GP Practice) today (3 June) joins the Sandwell and West Birmingham Hospitals NHS Trust family, bringing 'closer to home' care to its patients.
The GP surgery is now one of three in the Sandwell and west Birmingham area that will be operated by the NHS Trust in partnership with GP colleagues after successfully bidding to secure a contract to run services.
The Trust is working with Broadway Health Centre to deliver primary care services to patients at the Heath Street practice, which is based at Summerfield Primary Care Centre.
Working with partners, SWBH will embrace the opportunity to work differently which may see some patients having their care delivered by consultants in a primary care setting, and seeing increased consultant-led clinics opening closer to home.
For many patients, they will see the benefit of having almost all their NHS services (with the exception of mental health) delivered by one organisation that includes, primary care, acute and community services.
Toby Lewis, Chief Executive at SWBH, said: "The new arrangements are a chance to do, to learn and to build trust. We want to move fast to provide the very best long term conditions care for children and for adults that redefine traditional home and hospital boundaries."
Dr Imran Zaman, GP at Broadway Healthcare Centre, said: "I am a firm believer that healthcare should be delivered as a whole and that's why I'm very excited with this opportunity as it will deliver the integrated care model that we have always been talking about.
"I'm thankful to everyone who has been involved in making this partnership happen. Over the next couple of months and indeed in years to come, I hope that patients and staff will see the difference that this opportunity brings."
Dr Manir Aslam, GP at Broadway Healthcare Centre, added: "We've been really fortunate to collaborate with the Trust to deliver this truly integrated care model.
"This partnership has tremendous benefits for patients and means that there will be joined-up services, where treatment plans will be designed by generalists from primary care,specialists from the Trust and our patients.
"We will definitely see a more seamless pathway for patients so they can be seen quicker and treated more effectively. From my point of view, this partnership shows the true meaning of integration and that's the future of our healthcare service." SWBH runs Sandwell, City and Rowley Regis Hospitals as well as Leasowes Intermediate Care Centre and a number of community clinics in the area
Leave a reply